Ellen Wins An Epic Lip Sync Battle
Last night on The Tonight Show Starring Jimmy Fallon was one of the funniest episodes I've ever seen. Not only did Jimmy Fallon and Justin Timberlake open the show with another edition of the History of Rap, but Jimmy was also challenged by Ellen DeGeneres to a lip sync battle. I don't want you to be left out on what everyone was talking about today so get caught up. Fair warning, some offensive language in the videos.
First, History of Rap 6.....
This is True Love #RelationshipGoals
An older gentleman was waiting patiently for his beloved's flight to arrive on Labor Day. In this video posted by singer Chris GQ Perry, the man's special lady arrives from her flight to find the gentleman waiting for her with flowers. The two then shared a kiss and a hug. Collective "Awwws" can be heard in the video which has been viewed over 25 million times and shared over 200,000 times. We can learn a lot from this couple when it comes to #RelationshipGoals. We should all be so lucky to find a love like this.
This is true love.Chris GQ Perry

Posted by Chris GQ Perry on Monday, September 7, 2015
De-Stress Right Now With 20 Proven Ways
We all get stressed, some of us handle it better than others. I have tried many ways to handle my stress, some of them work, some of them don't. Here are 20 Scientifically Backed Ways to De-Stress Right Now from Huffington Post.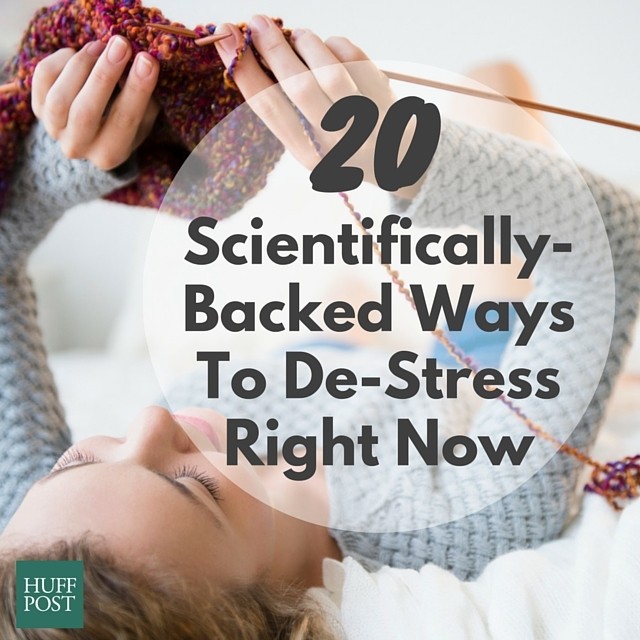 1. Go for a 10 minute walk
2. Breathe deeply
3. Visualize
4. Eat a healthy snack
5. Buy yourself a plant
6. Step away from the screen
7. Pucker up
8. Try this Naam yoga hand trick
9. Hang up, then turn off your phone
10. Put on some music
11. Treat yourself with one candy
12. Or, on the other hand, plug in
13. Chew a piece of gum
14. Watch a viral video
15. Progressive muscle relaxation
16. Seriously, turn off your phone
17. See your BFF
18. Eat a banana or potato
19. Try the eagle yoga pose
20. Craft
Give Yourself A Little More Credit
I came across this video today from Huffington Post from the outlet A Plus. People were asked to rate their success level on a scale of 1-10. Turns out we are our own worst critics. Not a lot of self-confidence come from the participants when describing their own success. Then however, their loved ones were asked to describe their success and the responses were really positive. Brings a tear to the eye to see how much they mean to their loved ones. Loved ones are always the best ones to build us up. 
Full Cast Announced for Season 21 of DWTS
Today on Good Morning America, the full cast and their pro partners were announced for Season 21 of Dancing With The Stars. I already have my favorites picked out.
Tamar Braxton partnered with last season champ Valentin Chmerkovskiy
Gary Busey partnered with Anna Trebunskaya
Nick Carter partnered with Sharna Burgess
Paula Deen partnered with Louis Van Amstel
Victor Espinoza partnered with Karina Smirnoff
Andy Grammar partnered with Allison Holker
Hayes Grier partnered with Emma Slater
Bindi Irwin partnered with Derek Hough
Chaka Kahn partnered with Keo Motsepe
Alexa PenaVega partnered with Mark Ballas
Carlos PenaVega partnered with Witney Carson
Alex Skarlatos partnered with Lindsay Arnold
Kim Zolciak Biermann partnered with Tony Dovolani
I'll be voting for Bindi Irwin for sure, mostly because she's partnered with Derek and I love him. Also will be shelling out lots of votes for Backstreet Boy Nick Carter....I am not ashamed.
Season 21 of Dancing With The Stars premiers Monday, September 14th on ABC.